How Julie Works
As a Transformational Practitioner, Julie acts as a catalyst – an intuitive counsellor and guide to help mediate individuals and groups through the process of change. Not only at times of stress and challenge, but also when life has lost its momentum and clear direction.
Julie has developed a unique and engaging way to impart big picture concepts that are digestible, practical and life altering. She synthesises a lifetime of knowledge and experience to stimulate the enormous potential everyone has to grow and evolve — physically, mentally and emotionally.
Her approach combines a highly tailored, intuitive assessment of an individual's life situation while bringing new awareness, often uncovering lost pieces of the jigsaw. This kind of shared review allows you to recognize the thoughts and beliefs that make up your current patterns of thinking, which in turn define your behaviour and create your life experiences.
Julie often incorporates simple, non traditional meditation techniques to shift your state of being to access the operating system of your subconscious mind. This process unlocks your brain to release limiting thoughts and trapped emotions. In this open and receptive state you are able to implement new intentions, activate new inner software and begin the process of REAL CHANGE.
"

We know that our thoughts continually sculpt our brain and often we don't know how to improve the thoughts we habitually reach for.
Beyond the grip of our conditioned personality we can access our greater mind and the self organizing mechanism it holds.

My intention is always the same: to bring clarity and shift you into a new state of being so that you are no longer the person you were creating the old experiences."


A Little More About Julie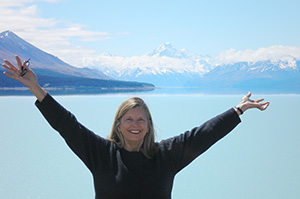 Deciding to work with someone in these areas is a very personal choice and it helps to know a little more about the person you may be considering.
Julie grew up in Australia and from a very young age held a strong interest in natural and preventative medicine and the mind/body connection.
Julie enjoyed a successful career in advertising and corporate recruitment and travelled widely, living for some years in London, Tokyo, New York, Toronto and Hong Kong. It was during her time in Hong Kong that her young son Simon unexpectedly experienced health challenges. This difficult period led Julie to research many healing modalities, expanding her existing understanding of the reasons behind emotional and physical disorders. At this same time, Julie also held a position with an international events company which presented many world renowned authors and speakers in the fields of health, spirituality and self-development. These were enlightening years and Julie applied her new found knowledge and skills to support her young son in his return to health.
On her return to Australia in the mid 1990s Julie established her coaching and healing practice. She also lectured at health centres, facilitated retreats, and taught meditation and practical metaphysics.
Julie's research and training with many of the world's leaders in the fields of health, science and human potential accompanies her more than 20 years of practical experience, coaching individuals and groups the world over.
Julie is excited by the speed of personal transformation
she is witnessing in this unprecedented time of awakening.